An integrated fitness program for every body and every activity.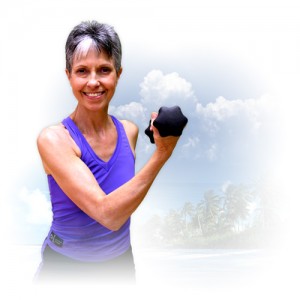 3-D Workout is about natural movement–the way we were designed to move. That's why it's great for non-exercisers who don't know where, or how, to start. And for those who want to refresh their conventional fitness programs, discover new material and new challenges in this "out-of-the-box" approach.
3-D Workout trains your body to work as a whole, gently releasing stiffness and joint restrictions so you can do more in the class and in life. Enjoy the benefits of easier, pain-free movement in everything you do. Experience leaner, defined muscles and better bone density through functional weight-bearing exercise.
"I was taking the escalator and somehow I slipped, dropping my purse and my carry-all, BUT, I DIDN'T FALL. My balance was good. I was able to recover quickly. That's from 3-D Workout." ML
This client didn't fall because she was well grounded. Does your fitness program train your grounding? It should because that is the basis of good walking, confident balance and everything else you do on two feet.
Make a commitment to your own body transformation and enjoy a truly functional fitness experience. Use 3-D Workout for one month and then notice how you stand, walk and participate in life with more endurance and enjoyment than ever before!